Interview with Guflux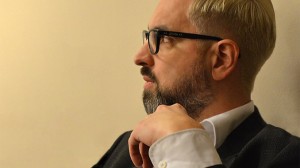 Hello there! Could you describe the music of Guflux to our readers?
GUFLUX is the musical brainchild from Dutch singer and producer John van Loon. With Guflux you can expect ethnic sounds and melodies mixed with electronic beats, cinematic undertones, tribal percussion and seductive vocals. Hints of Dead Can Dance, Delerium and Depeche Mode.
You seem to be pretty prolific in recording music. Synaesthesia is your 5th album and you also have 8 EPs/singles released so far. Where do you take inspiration to make so much music?
I guess I have an overactive creative brain? The new album "Synaesthesia" is a complete new chapter for me. The album "New Moon" (2014) and remix-album "Dark Moon" (2014) were released as a CD-set under the name "Blue Moon". "Libera Me" (2006) was released under the moniker DARK TERRITORY, the project I had together with Dutch techno producer Alex Dijksterhuis aka Jamez. And the EP's "Syzygy" and "Encaged" were released to keep my fans busy. 
Lees verder op obliquemusic.com [link currently inactive]