[:nl]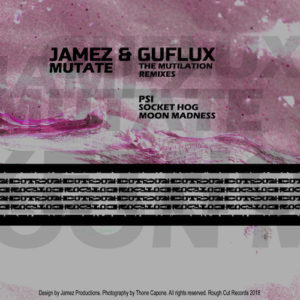 De samenwerking tussen technoproducer Jamez en zanger/producer Guflux resulteerde in de track Mutate. In november 2017 verscheen al de Mutation EP op Rough Cut Records. Nu is er ook de Mutilation EP, met minimalistisch duistere elektronische remixen.
Programming Sound Industry vervormt Mutate door een filmische ambient-remix af te leveren. terwijl Moon Madness trakteert je op een broeierige down-tempo trip. Socket Hog tot slot geeft een compleet nieuwe electronische draai aan de track met zijn Reconstruct Remix.
Download de Mutilation Remixes via: Amazon, BeatPort, e-Music, iTunes of stream met Spotify.[:en]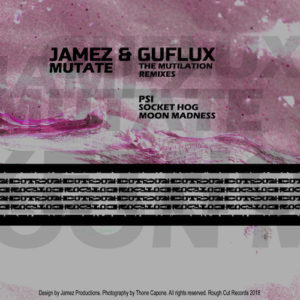 From Jamez's collaboration with Guflux spawns Mutate. Last November saw the release of the Mutation EP on Rough Cut records. More remixes, with a darker electronic approach, now come to you on the Mutilation EP.
PSI, short for Programming Sound Industry, delivers a dark cinematic ambient remix, while Moon Madness turns the track into a brooding down tempo trip. Finally, Socket Hog takes a whole new approach to electronic music with his Reconstruct Remix.
Enjoy the Mutilation Remixes at: Amazon, BeatPort, e-Music, iTunes or stream at Spotify.[:]