Blue Moon 2-CD out now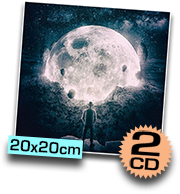 The special edition two-disc set Blue Moon combines the Guflux albums New Moon and Dark Moon into one unique box. Only 500 copies are printed and the release comes in a large triple gatefold sleeve and holds a 7″ booklet with artwork by Dracorubio. To order the deluxe edition, please visit the official Guflux shop on Bandcamp.
Go To Guflux Shop on Bandcamp.