Synaesthesia
Release: 20 mei 2016 | Label: Guflu Industries | Cat. no: GUF-GX10 | Tracks: 8 | Format: digitaal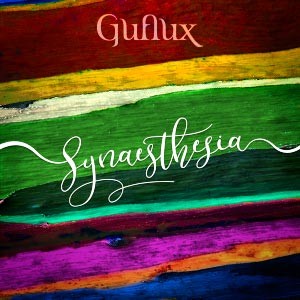 Guflux kondigt zijn nieuwe album Synaesthesia aan: muziek geïnspireerd door de prachtige fotografie van Colors of the Jungle.
Terwijl Blue Moon sterk leunde op industriele en orientaalse klanken, heeft Synaesthesia een meer electronische en kleurrijke natuur. Variërend van het lichte Emerald en het rustgevende Jaune, tot het dreigende Oscuro en de betoverende Kirsi. Een prominente plek is weggelegd voor celliste Saskia Le Poole, die bijdraagt aan vier nummers met haar virtuose spel.  Synaesthesia laten zintuigen samensmelten, door bijna tastbaar kleur toe te voegen aan ritme, cello en elektronische muziek.
Bestel 'Synaesthesia' nu in de Guflux Shop.
John van Loon: Muziek en productie.
Saskia Le Poole: cello's op Azur, Kirsi, Indigo en Joya.
Marjolein Groenewegen: vocalen op Luz.
Simon Kuyvenhoven: tekst van Luz.
Fotografie: Colors of the Jungle (18).
Artwork: Studea.