New Moon
Release: 1 maart 2014 | Label: Guflu Industries | Cat. no: GUF-GX01 | Tracks: 13 | Formats: digitaal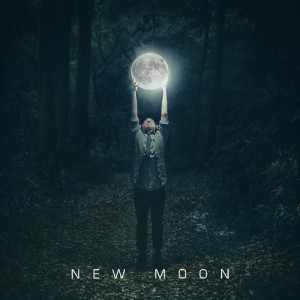 Op New Moon gaat dansvloerkraker Schmerztanz aan kop van dertien composities waarin de maan en haar licht centraal staan. Geënt op etnische folkmelodie en -ritmiek groeit en bloeit de trance die New Moon opwekt van een melodieuze gotisch ondergrondse duisternis naar een hemels vuurwerk in een wereldse harmonie der sferen. Deze extremen van het Guflux-spectrum vinden elkaar waar New Moon steeds gegrondvest blijft in het nu, met beide voeten in het ondermaans aardse, waarin thema's als liefde, afscheid, reizen en voortrazende techniek opgeld doen.
Tekst en muziek: John van Loon, behalve: track 1 and 8 muziek: Alex Dijksterhuis en John van Loon; Track 5 music: Charles Fenech en John van Loon, lyrics: Omar Khayyam uit de Rubaiyat.
Sepideh Vahidi: angelic vocals in Ey Maah, Ararat, Dawn Of Deliverance.
Saskia Le Poole: cello in Tears, The Fields
Jason Bunn: altviool in Eagle
Peter Todorov: darbuka in Ey Maah.
Alle tracks gemasterd door Sander van der Heide / Saint of Sound.
Cover artwork en photography door Dracorubio.