Blue Moon
Releasedatum: 30 maart 2014 | Label: Guflu Industries | Cat. no: GUF-GX03 | Aantal Tracks: 24 | Formats: 2xCD en digitaal (iTunes)
Twee volle manen in één maand? Dat heet een Blue Moon, vandaar de naam van het fysieke dubbelalbum dat op 30 Maart 2014 om 20:48:06 (UTC+1) uitgebracht word. Deze fysieke release bundelt de albums New Moon en Dark Moon in een luxe 7″ verpakking (zo groot als ouwe vinyl-singles) met twee cds en een groot 'booklet' met songteksten en uniek artwork van Dracorubio.
De dubbel-CD is te koop via Bandcamp. Je krijgt direct een download link voor alle tracks en een digitaal booklet.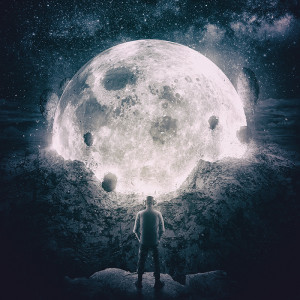 CD1 (New Moon)
01. Schmerztanz
02. Sorrow
03. Laika
04. Ey Maah (featuring Sepideh Vahidi)
05. Dedicator
06. Tears
07. Eagle (featuring Jason Bunn)
08. Ararat (featuring Sepideh Vahidi)
09. Dawn of Deliverance (feat. Sepideh Vahidi)
10. Pariahs from the Sun
11. The Fields
12. Nocturne
13. Static 69
CD2 (Dark Moon)
14. Schmerztanz (Nik Von Einselen's Geschwollen Mix)
15. Ptolomea (Ah Cama-Sotz's Dante Mix)
16. Tora Firome (Sensory Gate's Ankara Mix)
17. Kalandare (Zen Mechanics Psychedelic Trance Mix)
18. Vrijdag (Gods Bow's Deliverance Mix)
19. Sorrow (Guflux's Sanctification Mix)
20. Vrijdag (Tonikom's Freyja Mix)
21. Trista Me (Angel Theory's Chant Mix)
22. Die Geschichte einer Blume (featuring Sara Noxx)
23. DarkFlower (Jamez's Dunkelheit Remix, featuring Sara Noxx)
24. Creator (Dave Foreman's Secular Mix)
Gemasterd door Sander van der Heide / Saint of Sound.
Cover artwork en photography door Dracorubio.
Please guard your hearing. It's a precious gift.