Synaesthesia
Release: May 20th, 2016 | Label: Guflu Industries | Cat. no: GUF-GX10 | Tracks: 8 | Format: digital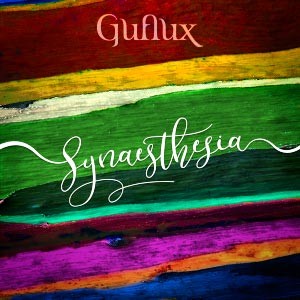 Guflux announces the colorful album Synaesthesia: music inspired by the amazing photography of Colors of the Jungle.
Where Blue Moon has its origin in industrial and oriental music, Synaesthesia has a more electronic and colorful nature. Ranging from the uplifting Emerald and the peaceful Jaune, to the brooding Oscuro and the entrancing Kirsi featuring the wonderful Saskia Le Poole on cello, the album is a fresh and intriguing development in the musical scenery of Guflux. Synaesthesia offers you a merging of the senses, adding an almost tangible color to rhythm, cello and electronic sounds.
Pre-order 'Synaesthesia' now at the Guflux Shop.
John van Loon: Music and production.
Saskia Le Poole: cello on Azur, Kirsi, Indigo, and Joya.
Marjolein Groenewegen: vocals on Luz.
Simon Kuyvenhoven: lyrics Luz.
Photography: Colors of the Jungle (18).
Artwork: Studea.