Blue Moon
Release date: March 30, 2014 | Label: Guflu Industries | Cat. no: GUF-GX03 | Tracks: 24 | Formats: 2xCD and digital (iTunes only)
Two full moons in one month? That's a Blue Moon. Hence the name of the deluxe two-disc set by Guflux, officially released on March 30, 2014, 20:48:06 (UTC+1). This special release of Blue Moon combines the Guflux albums New Moon and Dark Moon into one unique box. Only 500 copies are printed and the release comes in a large triple gatefold sleeve and holds a 7″ booklet with artwork by Dracorubio.
The deluxe 2CD-edition is available at Bandcamp. Upon buying the album, you get immediate access to the full digital download of the album, including digital booklet.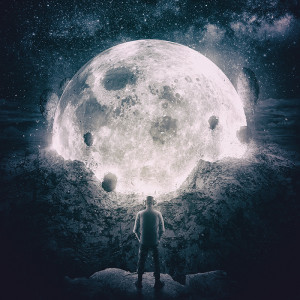 Disc 1 (New Moon)
01. Schmerztanz
02. Sorrow
03. Laika
04. Ey Maah (featuring Sepideh Vahidi)
05. Dedicator
06. Tears
07. Eagle (featuring Jason Bunn)
08. Ararat (featuring Sepideh Vahidi)
09. Dawn of Deliverance (feat. Sepideh Vahidi)
10. Pariahs from the Sun
11. The Fields
12. Nocturne
13. Static 69
Disc 2 (Dark Moon)
14. Schmerztanz (Nik Von Einselen's Geschwollen Mix)
15. Ptolomea (Ah Cama-Sotz's Dante Mix)
16. Tora Firome (Sensory Gate's Ankara Mix)
17. Kalandare (Zen Mechanics Psychedelic Trance Mix)
18. Vrijdag (Gods Bow's Deliverance Mix)
19. Sorrow (Guflux's Sanctification Mix)
20. Vrijdag (Tonikom's Freyja Mix)
21. Trista Me (Angel Theory's Chant Mix)
22. Die Geschichte einer Blume (featuring Sara Noxx)
23. DarkFlower (Jamez's Dunkelheit Remix, featuring Sara Noxx)
24. Creator (Dave Foreman's Secular Mix)
All tracks mastered by Sander van der Heide, Saint of Sound.
Cover artwork and photography by Dracorubio.
Please guard your hearing. It's a precious gift.