METACHROSIS
Release: Sept 26th, 2019 | Label: Guflu Industries | Cat. no: GUF-GX13 | Tracks: 9 | Format: digital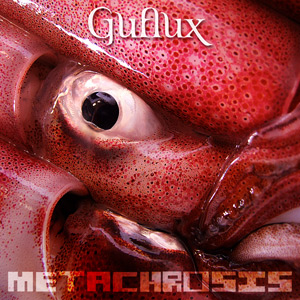 1. (zoology) The ability of some animals to change color by the expansion and contraction of chromatophores.
2. (music) The latest Guflux album: a collection of reinterpretations, remixes and originals.
Guflux decided to shine a different light on his music and asked several fellow musicians to do the same. This resulted in the colorful musical palette and full length album Metachrosis. Expect a symbiosis of electronic and organic sounds that will make you wanna dream and dance at the same time.
Get 'Metachrosis' in the Guflux Shop.
All songs written by John van Loon.
All cellos performed by Saskia Le Poole.
Track 2: Voices by Marjolein Groenewegen, lyrics by Simon Kuyvenhoven, remix by Sender.
Track 3 & 7: Add. remix and production: Charles Fenech.
Track 4: Remixed by Guflux from a remix by Zadique.
Track 5b: Additional remix and production by Jamez.
Photography "Eye": Kees Wagenaars.
Cover design: Studea.