New Moon
Release date: March 1, 2014 | Label: Guflu Industries | Cat. no: GUF-GX01 | Tracks: 13 | Formats: digital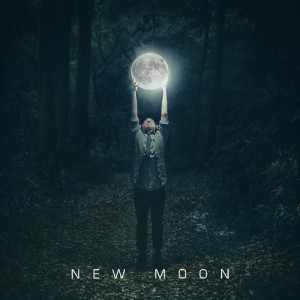 On New Moon, the dance floor hit Schmerztanz is at the forefront of thirteen new compositions that put the moon and its light into full focus. Both elements have been a sublime inspiration on ritual and 'holy' music throughout history. Based on ethnic folk melodies and rhythms, New Moon's trance grows and blossoms from a melodic gothic underground darkness to a celestial firework display in the harmony of spheres. The extremes of the Guflux-spectrum are  joined in a modern foundation of the earthly themes of love, departure, travel, and ever increasing technological possibilities.All words and music by John van Loon. Track 1 and 8: music by Alex Dijksterhuis and John van Loon, track 5 music by Charles Fenech and John van Loon, words by Omar Khayyam from the Rubaiyat.
Sepideh Vahidi: angelic vocals on Ey Maah, Ararat, Dawn Of Deliverance.
Saskia Le Poole: cello on Tears, The Fields
Jason Bunn: viola on Eagle
Peter Todorov: darbuka on Ey Maah.
All tracks mastered by Sander van der Heide / Saint of Sound.
Cover artwork and photography by Dracorubio.